Great to have you here on my page, let me briefly introduce myself. I'm Dennis Doorakkers, a straightforward Dutch guy in the international wine industry. On this blog page I write mainly in English about all kinds of subjects related to wine in general but also millennial generation focus, canned wines, wine reviews of (unknown) wine areas, interviews with other wine professionals and all my other experiences in the wine industry. As I'm huge fan of Italian wines, you can expect this also on my page. The Dutch articles are focused on local activities like restaurant reviews, recipes, local tasting sessions and local projects all related to wine.
What are my activities in the wine industry?
Next to the blog's you find here on my page I do a lot of other great things in the world of wines. I import wines from a large number of countries including France, Italy, Spain and Germany as a buyer and adviser at Voerman Wijnen BV (1979). From 'best buy' wines up to high end premium 'allocation' wines from Burgundy. I reviewed those wines on the vlog channel on Youtube. As the owner of Vino Vita, I provide wine tastings for consumers and company events and work as a social media content creator for several institutions like the Embassy of Chile. I'm also an approved WSET educator with the Eleanor Wine Academy and am active as a guest speaker on multiple events and for a broad range of organizations like Institut Supérieur du Vin in Montpellier and the World Bulk Wine Exhibition. I'm a true believer in Millennial driven products and developments, such as canned wines and am the International Ambassador for the International canned wines competition. For which I do entrée management of participants and sponsorship affairs. With my brand The Wine Can Guy I promote this package in general and work as a global matchmake to connect wineries, producers and other parties in the business.
As an international wine taster, I regularly got the pleasure and privilege to judge at several international wine competitions mentioned in the figure below.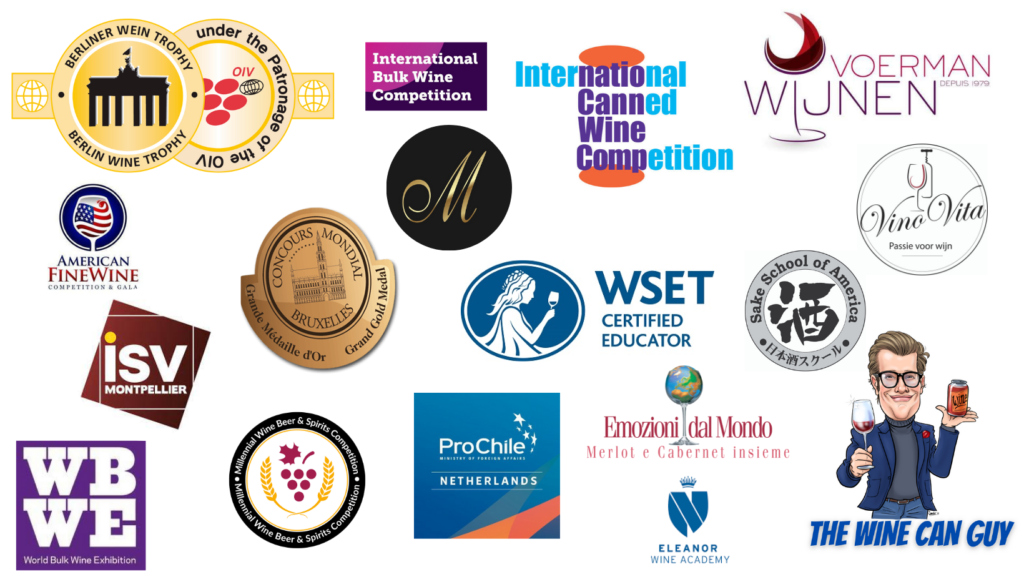 Let's work together
Are you looking for a solid collaboration? Maybe to publish a review article on your wines, making content on your brand, helping with canned wines, tasting notes or something different related to wine?
Please contact me directly hello@thefamousdutchwineguy.com
Why the name 'The Famous Dutch Wine guy'?
The name originated from a joke, actually from a non-serious point of view. So no fan club, no snobbery, no private driver, no villa with dozens of rooms. Actually a 'normal' Dutch guy with a lot of self-mockery, a name with a big wink towards myself and a healthy dose of humor!
As I work with a talented graphical designer at a local Dutch printing house, who designed and printed the brochures for the Dutch import company I work with. Those brochures are full of wine stories, tasting notes, etc. At one time, when I visited him to review a brochure design, we were standing in the printing hall, taking a look at a fresh concept print. As we were standing between those large, heat generating and noisy machines, me dressed for business (enormously overdressed for a printing company) some of the crew came to ask him something technical.
They looked strange to that 'overdressed' guy, all suited up between these machines. Since the crew kept staring at me, he decided to prank them with some witty and exaggerated comments and questions.
Do you recognize him yet? Well, come on guys think!? About the wines, you know? He writes, judges wines in international panels throughout Europe and in the US, spins with a glass at 7 am for a good tasting of thirty wines and makes review movies on YouTube……Come on guys, you know him right?! This is The Famous Dutch Wine Guy! And so the name was born! And because I like a dose of self-mockery and humor, I thought this is a great name to publish my wine publications.