De hamburger, wie kent het niet! Hele volksstammen zijn hier groot meegeworden. De hamburger is al lang niet meer een ordinair gerecht. Je kan er eindeloos in variëren. Van kip, varken, eend of rund. In verschillende stijlen, denk aan Indonesisch, BBQ pulled pork erop of alleen heel veel verse groente. De variaties zijn eindeloos!
Maar goed, some like it, some hate it! Maar los van de kant en klare burgertjes van de bekende fastfood ketens kan je het natuurlijk ook lekker zelf maken. Veel verse ingrediënten en als je kinderen hebt hoef je niet naar de 'Yellow Arches' en staat het in een mum van tijd op tafel. Uiteraard geen 'haute cuisine' maar makkelijk en heerlijk comfort food voor het weekend!
Welke wijn past goed bij?
Ik hoor sommige al denken 'tja het is maar een hamburger he', dus niet te moeilijk! Daar ben ik het mee eens! Deze hamburgers zijn van100% rundvlees, met verse bacon, Cheddar kaas en diverse groene toppings. Daarom zeker geen fluweel zachte rode Bourgogne met veel finesse (dat zou zonde zijn voor de wijn) en ook geen hele zware, met tannine overheersende Cabernet Sauvignon uit de Bordeaux, dan gaat de smaak van de hamburger en de toppings verloren.
Ik ga voor een gulle rode wijn met voldoende fruit en tannine om de versheid van de toppings en de aanwezige vetten in het vlees de baas te zijn, maar genoeg frisheid om in evenwicht te zijn met het geheel.
Terrasse de Moulinas Rouge 'Rouge du Soir' 2020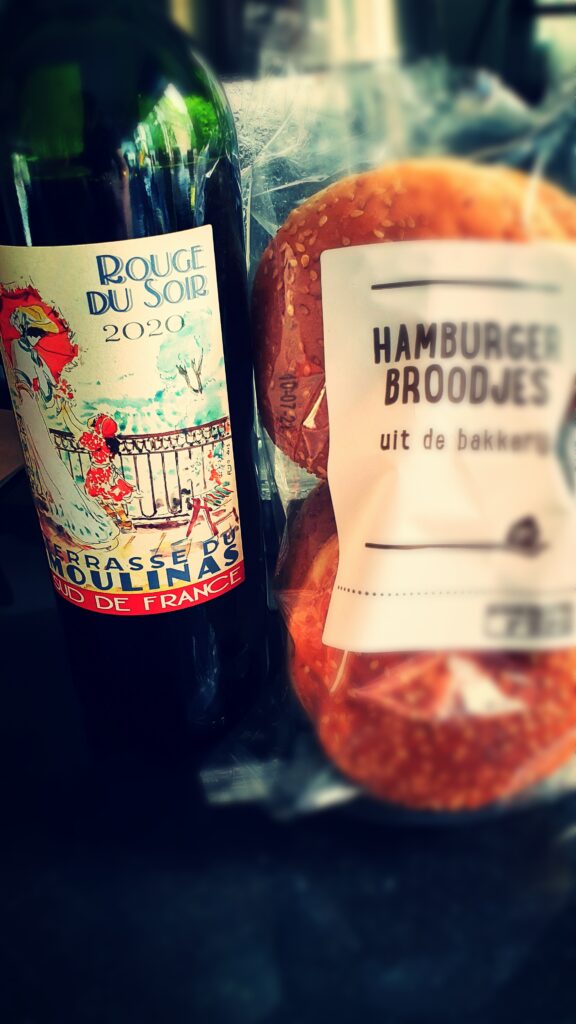 Afkomstig uit de Franse Languedoc. De wijn is gemaakt van Carignan, Garnacha, Merlot en Syrah. Stevig maar vol op het fruit gemaakt!
Robijnrood, zacht, zwoel, zwart fruit, kers, braam, bosbes, tikje cacaopoeder lichte tannine, kruidigheid, balans, mooie zuren, lange afdronk.
Have a good one!
Ingrediënten
• 4 hamburger broodjes
• 500 gr rundergehakt
• 1 ei
• Paneermeel
• 1 rode ui, in stukjes
• Handje sla
• ½ eetlepel worcestersaus
• 4 plakjes cheddar kaas
• 4 plakken baconpaar
• plakjes augurk

Bereiding
Bak het spek uit in een pan en laat uitlekken op een papiertje. Doe het gehakt in een kom en meng het ei er door en genoeg paneermeel om er stevige burgers mee te vormen. Voeg een snuf peper, zout, halve rode ui en de worcestersaus toe. Verdeel het gehakt in vieren en maak er mooie burgers van.
Bak de burgers in een pan of op de BBQ gaar in ca 8 minuten. Snijd de broodjes open (rooster ze eventueel nog kort) en verdeel wat sla er over. Leg een burger op en meteen een plakje cheddar kaas zodat deze een beetje smelt. Leg een plakje gebakken spek, rode ui er op en wat plakjes augurk.
Bron: leukerecepten.nl