Gamea, Mr. Bubble, Dr. Corvinus, PJ White, Lady Blandy and the Cork Borg. These could be names for a new adventure Galaxy series!
But it is all about Italian wine! Let me tell you the story behind these wine characters and the way this brand makes it a overall experience without even sipping the wines. Amazing!
In the not too distant future, a band of unpredictable characters is ready to experience the most incredible of adventures. Will they be able to solve the mystery of the ancient wine prophecy and save the world?
Earth, year 2150. Climate change has devastated the planet, causing the extinction of 99% of plant and animal species. Much of the world's population lives in huge city-states and is forced to eat pills and synthetic drinks in order to survive.

Dr. Corvinus, the last heir of an ancient dynasty of sommeliers, lives with his robot assistant Cork Bor. The two spend whole days among books and parchments, hoping to be able to produce wine without using grapes, which are now completely extinct. Despite their efforts, however, their every attempt fails miserably. Then they the last bottle with an imprinted text on the back of the label. These are writings dating back to more than 2000 years ago: they seem to hint at an ancient prophecy about wine.

There is a mission to accomplish and a team worthy of it is needed. Meet the team!
Gamea, the biologist who prefers plants to people. Lady Blendy, an anthropomorphic cat with some personality problems and a great talent for mechanics and … murder, and finally Pj White, a penniless thug who, by a series of coincidences, is mistaken by Cork Borg for the greatest engineer of the Earth.
All the wines are linked to the characters described above, with their own way of doing things, this is canned wines with a awesome story and it sticks! So let's start with the white wines!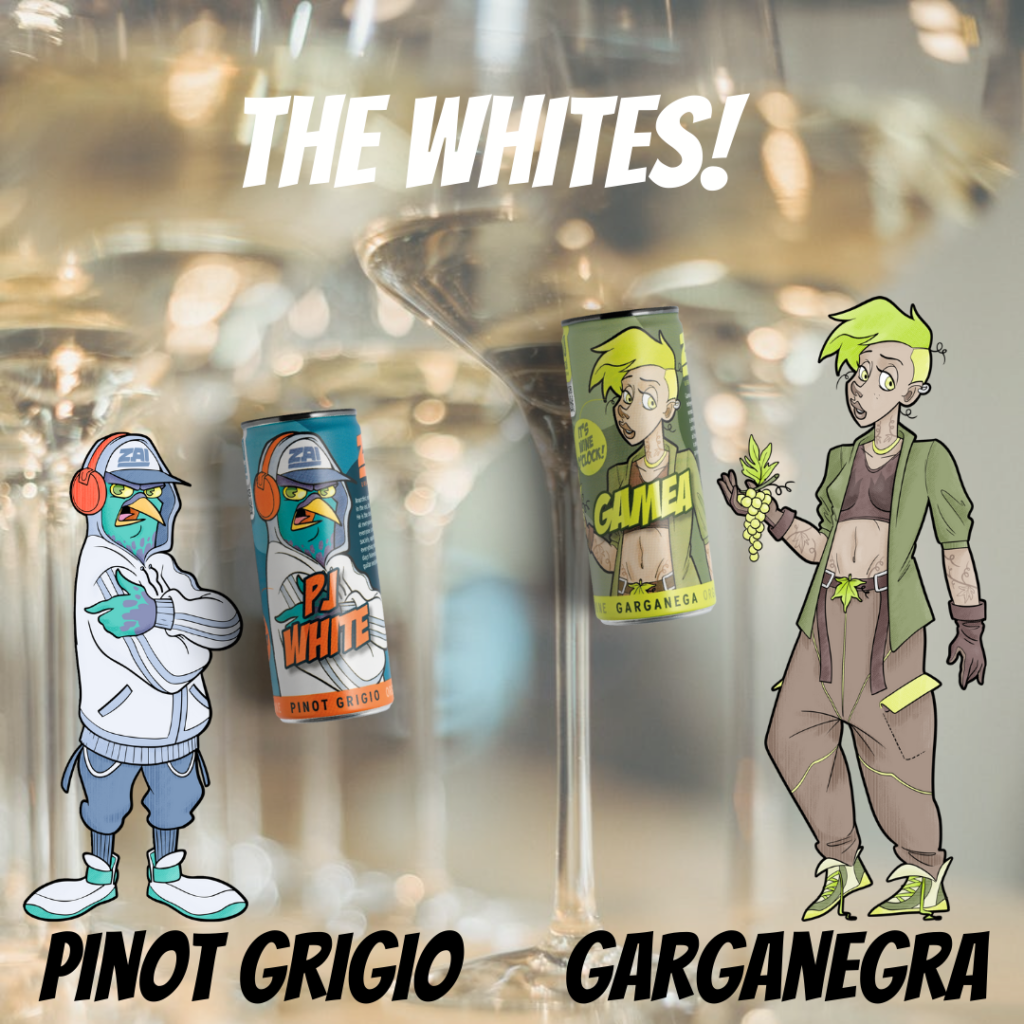 'PJ White' – Pinot Grigio Terra Siciliane IGT – 9,5%

Fresh and cool like mr PJ White himself. Fresh lemons, pears and a lot of freshness in every sip. The core of this wine makes you happy and tempt you to take another sip.
'Gamea' Garganegra Verona IGT – 9,5%

Known from the famous Soave area, this power grape, the Garganegra, made it in a can. We can be brief on this one, lemons and almonds. All you want from a Garganegra, job well done!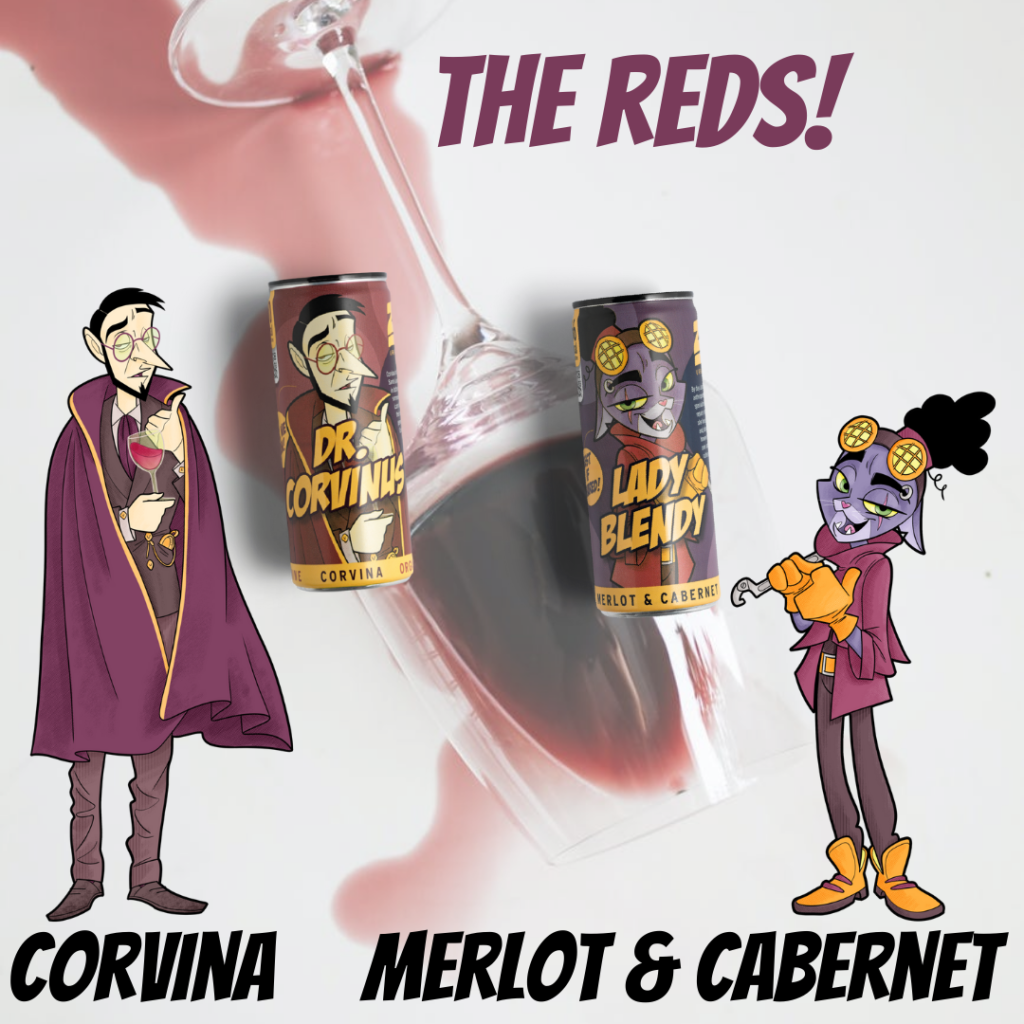 'Dr Corvinus' Corvina Veneto IGT – 11%

A famous Veneto wine in a can, lot's of cherry and a typical Corvina nose. Nice and easy going with some herbs in the finish! Goes well with pizza in my opinion.
'Lady Blend' Merlot & Cabernet Sauvignon Veneto IGT– 10,5%

What a amazing Merlot/CS blend is this. Cherry, black plum, blueberry and with soft tannins. It really rock from the can and also in your glass. Without any doubt a wine well made and ready to go!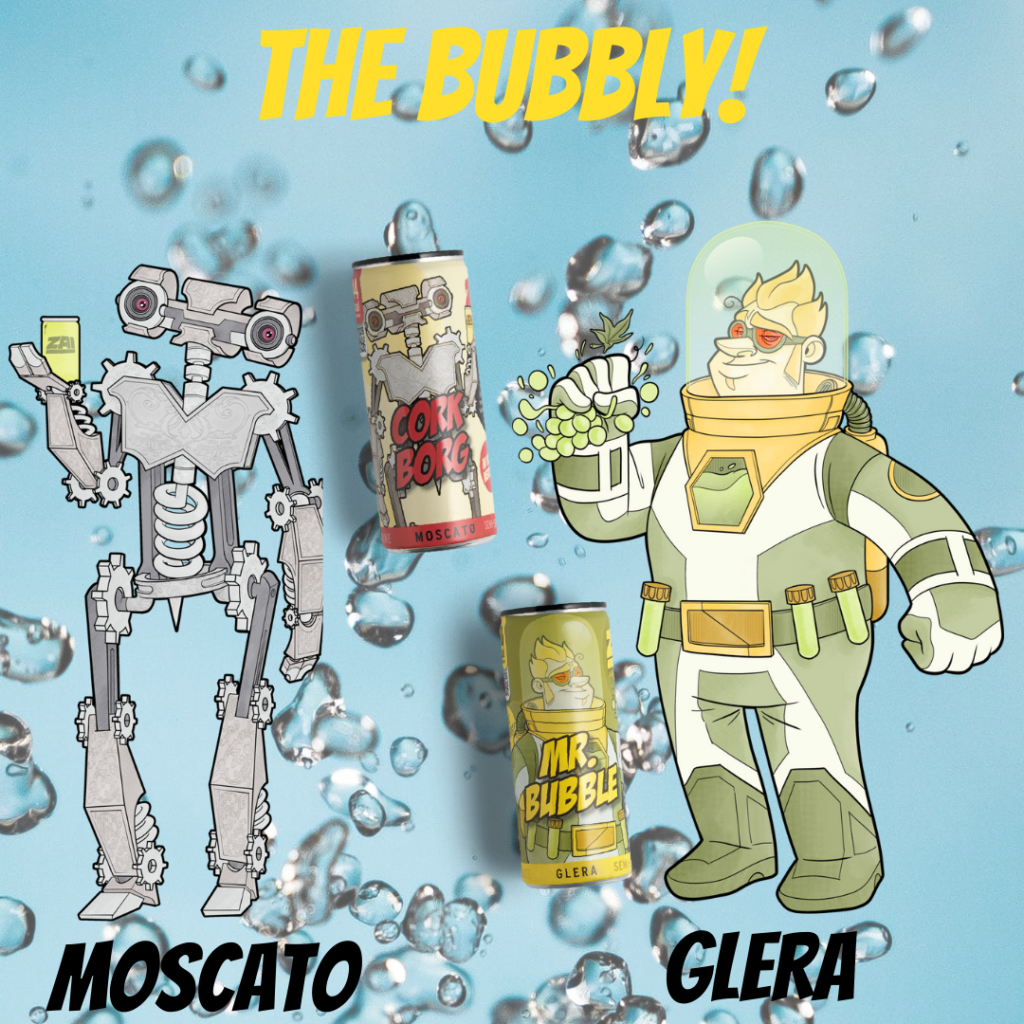 'Cork Borg' Moscato Moscato Veneto IGT – 9,5%

A real nice sparkling Moscato. I smell flowers, fruits and typical aroma of grapes. A very delicate taste, sweet with a hint of roses. Fine and very persistent bubbles.
'Mr Bubble' Glera Gera Veneto IGT – 9,5%

All that you expect from a bubbly wine from this region. Lot's of lime, bit of pear, nice bubbles and a long after taste!
I also interviewed Alberto Buratto, one of the founders of this quest!
With whom do I have the pleasure of speaking?
I am Alberto Buratto who together with Alberto Zampini and Gabriele Stringa had the idea of creating the first Italian quality wines in cans.
What is your background in wine?
Since 1990 I have been producing wine, first in Tuscany near Siena. In 1997 I started producing a limited edition ZAO Amarone and Valpolicella. This Amarone waits 12 years after vinification before going to market. It is a vision of a wine in which the characteristics of the grapes, the aging in wood and the refinement in the bottle are enhanced. All to seek elegance.
From 1997 to 2015 with Count Paolo Marzotto I had the opportunity to create a company in Sicily with 115 hectares of organic vines.
A wonderful team of over 50 people with whom from the countryside to the cellar we have experienced classic Sicilian vines such as Nero d'Avola, Grillo, etc but also international vines such as Petit Verdot or Viognier. The successes arrived as well as the awards from Robert Parker, Wine Spectator, Tre Bicchieri Gambero Rosso etc.
In 2015 I created together with my friends Marco Bernabei, Alberto Zampini, Gabriele Stringa a new way of making wine: Ferro13.
We wanted to give life to a brand where we do not communicate the wine, the territory but we tell who we are and our emotions. All seasoned with a contemporary image.
How would you describe your wine in a can?
Our canned wines have been created thinking of a quality consumer who is looking for premium wines (€ 11 – € 20 per ml 750) and who wants to solve these problems:
– taste quality wines
– being able to buy quality at a lower cost because the quantity is one third compared to the bottle
– being able to drink well without wasting bottles unnecessarily (one cans two glasses)
– being able to store wine easily at home without taking up too much space
– have a safeguarding approach to the environment using a container that can be recycled indefinitely and drinking organic wines
– being able to bring the wine to temperature quickly
– taste two or more wines at the restaurant without having to buy the bottle.

Why are you in the canned wines industry?
Traveling and visiting wineries, restaurants and wine bars in the 5 cotinents for over 200 days a year for over 20 years I had seen various attempts at wines in cans.
I have tasted many and some of them had impressed me in a particular way.
We started talking about it with my partners (on 2013) even before creating our other company Ferro13, but then we thought it was too premature.
Last year, thanks to the reflections of the first lockdowns, we decided to create a cellar dedicated exclusively to quality wine in cans.
How do you see the future of canned wines?
I believe it is a future of great evolution.
Consumption has changed and we are all more attentive to quality at 360 degrees.
Preconceptions we had have fallen, who would have thought for example that within 24 months students under 10 would have studied with computers, or that digital purchases had these increases, or that electronic money would exceed cash payments?
I too was reluctant to drink canned wine …I believe more and more there will be quality companies that will offer quality wines and therefore the consumer will have the opportunity to have fun and discover a different way of consuming wine.
When we thought of canned wine, we thought of 2150, when life will have changed a lot.
We have created characters that will help us bring Italian quality wine to the next generations.
Thank you very much for your time Alberto, it was my pleasure!