Wie ben je en wat is je achtergrond in de drank-/rtd- industrie?
Mijn naam is Milan Voet, geboren in 1995 en opgegroeid in Landsmeer. Ik heb rechten gestudeerd aan de UvA, en vervolgens samen met Lodewijk Pessers het advocatenbureau Speyer opgericht. Pas tijdens een verblijf in de Verenigde Staten kwam ik voor het eerst in aanraking met hard seltzer. Hier zag ik hoe mijn leeftijdsgenoten massaal van het bier afstapten en dit nieuwe drankje omarmden. Van het een kwam het ander, en samen met Lodewijk, Glenn Cornelisse en Ebbo Gevers Leuven hebben we toen uiteindelijk het merk STËLZ opgericht.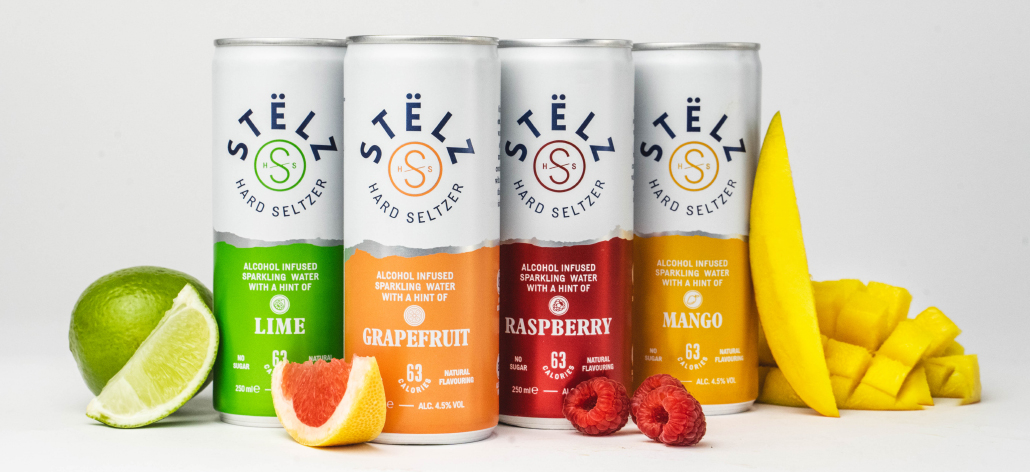 Leuk kennis te maken Milan! Jullie hebben een range aan setlzers, hoe zouden jullie het hard seltzer-assortiment van Stëlz omschrijven?
Ons assortiment bestaat uit frisse en gebalanceerde smaken. Ze sluiten goed bij elkaar aan omdat het voornamelijk toegankelijke fruitsmaken zijn. Daarnaast is hard seltzer licht in alcohol en calorieën, en speelt daarmee in op de behoefte om bewuster te drinken.
Lime

There are many lime variants in the Hard Seltzer category. This one resembles the sugar-free bubble drink with the number 7. Fresh and thirst-quenching.
Grapefruit

Particularly thirst-quenching, no sugar sweetener, pure nature and you can taste it. A fine bitterness of the grapefruit and balance the carbonation.
Raspberry

If you like small red fruit, this may be the drink of choice!
Refined bubbles have a harmonious taste with the juicy and slightly sour to slightly sweet raspberry flavor.
Mango

Pure taste, full and very fresh ripe mango. Reaches refined and not overpowered.
Hoe is jullie idee ontstaan om een hard seltzer te gaan maken?
De komst van hard seltzer vanuit de Verenigde Staten naar Europa kon niet uitblijven. Dat was in elk geval onze sterke overtuiging. Vanuit die gedachte hebben we besloten om ons eigen hard seltzer-merk te starten in Europa. Door snel in te spelen op de trend waren we de eerste hard seltzer in Europa.
Wat is volgens jou de USP van jullie merk?
Wij zijn een van de weinige hard seltzers zonder enige toegevoegde suikers. Daarnaast bevat ons blikje van alle hard seltzers de minste calorieën. Ook heeft ons blikje een premium design. Daarnaast maken we al onze content in-house en hebben we een groot team die de hele dag daarmee bezig is. Onze Instagram-community is de grootste van alle hard seltzer-merken in Nederland. (@stelz_int)
Waarom zit jullie Hard Seltzer in een blikje?
Daarvoor zijn verschillende redenen. Blik zorgt ervoor dat het product, de smaak en de kwaliteit beter worden behouden. Daarnaast zorgt blik ervoor dat het koolzuur goed in het drankje blijft. Blikjes zijn ook veel lichter in transport en kunnen zeer gemakkelijk gerecycled worden, dus als de keten goed aansluit wordt de 'carbon footprint' kleiner.
Hoe zie volgens jou de toekomst van dergelijke dranken eruit?
Wij verwachten dat de hard seltzer-markt blijft groeien. In de VS heeft hard seltzer 10% van de totale biermarkt overgenomen, en we verwachten dat dit in Nederland en de rest van Europa ook gaat gebeuren. Vooral met de trends om bewuster en gezonder te leven, past hard seltzer hier perfect in het plaatje.
Bedankt voor je tijd Milan, heb je nog een afsluiter welke je wilt delen?
Ja! Dat ik ontzettend veel plezier beleef aan het ondernemen en aan de interactie met onze community. Met STËLZ kunnen we mensen inspireren om bewuster te genieten!