The Hard Seltzers are booming, Ready to Drink category is going sky high and at this moment it looks like there is no stop too it.
Within the European market the market share of these fruity adult beverages is becoming more and more. Most of the available data is from the US market. As 'State Side' is the largest market has a Compound annual growth rate (CAGR) of 128% a year, this will also be the case in Europe as a 'early adopter'.
So it was time for me to get in touch with several brands and investigate this 'millennials' market and do some 'research', well actually by tasting all of them!
A drink for the conscious consumer and with a vision for the future.
We mainly know Hard Seltzers in cans, from the supermarket or can be ordered online. But at Silver Ocean, 3 young men took a different approach.
All three sporty and busy with balance in life, good food but also enjoying a (calorie-filled) beer….there had to be another way!?
After a lot of tasting and experimenting with recipes, they started with a small batch and with success.
But these three men don't just want to sell a Hard Selter, they like to see it in a broader perspective, making a positive impact on the world.
With whom do I have the pleasure of speaking?
With Lesley Daris. One of the three co-founders of Silver Ocean Seltzer.
Great to speak to you Lesley, what is your background in the adult beverage/rtd industry?
All of us have no prior (professional) experience within this industry. Our experience is more first hand, from the other side of the bar. We've always been interested in good concepts and products though.
How would you describe your Hard Seltzer range?
Silver Ocean Seltzer is a premium craft seltzer, Made the right way; Artisanally brewed with champagne yeast and cane sugar. This results in a refreshing, light and crisp drink with a cohesive taste profile. I would say it's quite different from most of the premixed drinks within the Hard Seltzer category.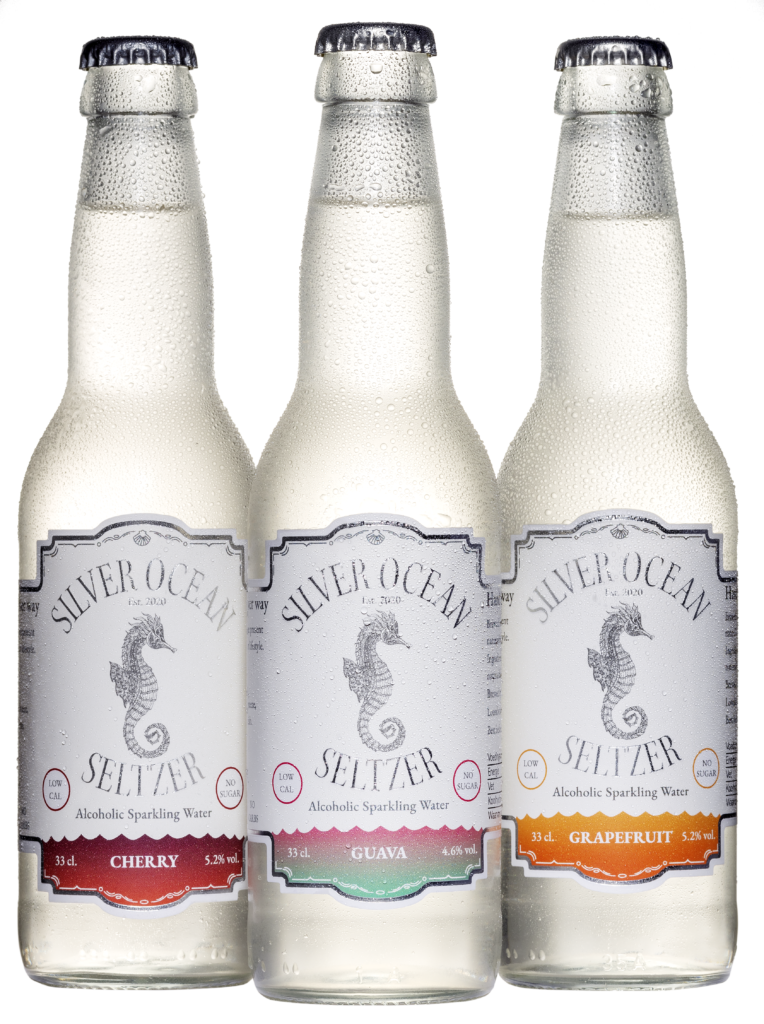 Tasting notes Dennis

All Seltzers are really very pure! A purity that I have not yet encountered with others. The fruit flavors are refined and match the surface without being disturbing.

With the cherry flavor it looks like you just bit into a small cherry, pure and pleasant.

The grapefruit is what you would expect from a grapefruit, but again modest, refined and beautifully fresh.

The range of three also includes a special flavor, namely Guava!

The Guava originates from Central America and tastes fruity and slightly floral, like a cross between a strawberry and a pear. And that's exactly how this Guava tastes, great, special, unique and incredibly fresh.
Yes I noticed Silver Ocean is bottled and not canned, could you explain your vision on this?
We are really presenting it as a premium brand for the conscious consumer. This is all due to the fact that we can't keep up with the big brewers in terms of quantity, so we don't, we focus on absolute quality. Most Hard Seltzers available in The Netherlands, the marketing is aimed at students: it is sold in supermarkets and packaged in a can. That is not our way of working. We consciously go for a premium positioning, think of a subtle refreshing taste, bottled in a beautiful bottle and linked to a social purpose. That's why we focus on the higher segment of the hospitality industry.
That's a great vision and strategy, why are you in the ready-to-drink beverage (rtd) industry?
To raise the bar and build a premium brand with well thought about quality products.
Thanks clear, but how do you see the future of rtd beverages?
I see the category expanding, although shifting more towards the low and no alcohol side. I foresee many crossovers between categories and brands. For example Fever Tree moving into the Hard Seltzer category and the rise of RTD Spritzers. As a whole this boosts the whole rtd category forward in terms of quality and innovation.
And that's exactly what this category needs and you guys are doing a great job! Do you wish to add something to this interview?
Just a little bit of own marketing…….If you're looking for a good Hard Seltzer with a great additional social cause, check out Silver Ocean Seltzer!
Cheers on that Lesley and again thanks for your time and I will following you guys with great pleasure in the future!