Since 2008, Bourgogne wines have seen significant oscillation in yields, yet the average production over the mid-to-long term remains relatively stable. In fewer than five vintages, Bourgogne produced two extremes in terms of volume: The 2018 harvest resulted in full-capacity production, whereas 2021 yielded one of the lowest volumes in the history of the wine region.
The results for 2022 will depend on the ability of the Bourgogne wine sector to supply its markets and
respond to the multiple consumer expectations, not forgetting Covid-19, which comes in waves, and the
consequences of the geopolitical situation and its impact on inflation.
In 2021, volumes of Bourgogne wines exported were up strongly, despite the continuing pandemic. More than 105 million bottles were exported (up 18% over 2020), for record revenue of €1.322 billion (up 28% over 2020). Bourgogne wines are exported to 171 territories, with 10 new destinations.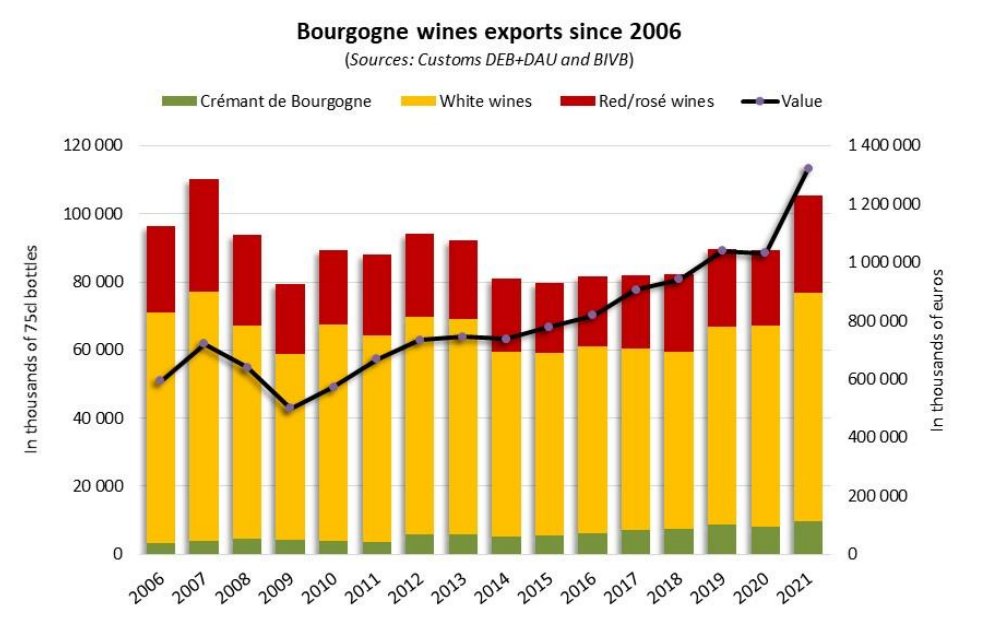 The 105 million bottles of Bourgogne wines exported in 2021 went mainly to three geographical regions,
which between them accounted for 77% of export volumes and 73% of revenue.

Europe (chiefly United Kingdom, Belgium, Sweden, Denmark and Norway): The most important
region by volume and revenue (35% of export volumes which generated 26% of export revenue).

North America (United States and Canada): The strongest growth in terms of revenue, up 39% over
2020 (up 25% by volume). The region accounted for 28% of export volumes and 25% of revenue.

Asia (Japan, China, Hong Kong, and South Korea): The strongest growth by volume, up 30% over 2020
(up 30% in terms of revenue). The region accounted for 14% export volume and 22% of the revenue.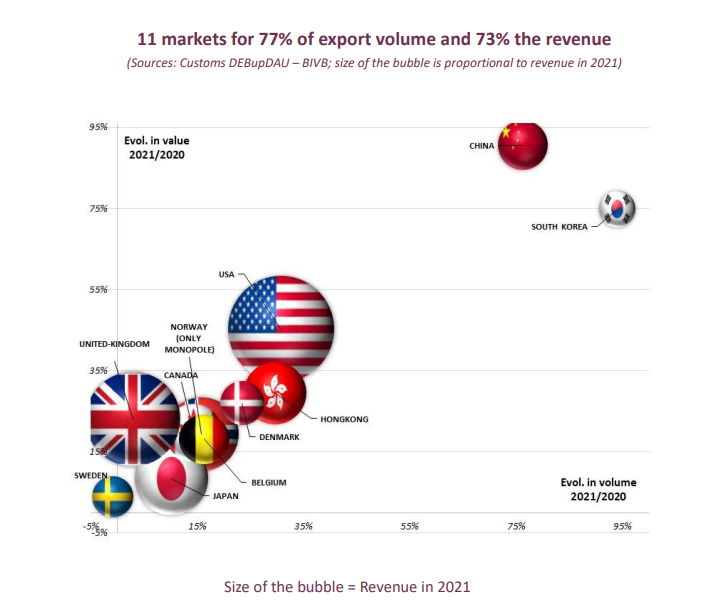 For the whole press release click here