In the spring I already had contact with Steve van Rensburg of New World Wines about their range of canned wines.
In recent years, South Africa has turned out to be a true breeding ground for canned wines.
New World Wines has 2 brands – Chateau Del Rei and Uncanny.
The first with a traditional appearance with sweet bubble wine. The second is a true millennial canned wine, sleek design, clear about the content and a nice variety of wine. In addition to a Merlot, Chenin Blanc and Sparklin Pinotage, there are two non-alcohol wines here. A Sauvignon Blanc and Pinotage. As usual, I put it to the test.
Were it all begin with Uncanny
Uncanny came to be as most good stories do – two good friends and a love for even better wine. As the South African lifestyle is synonymous with the outdoors – music festivals in a park, summer days next to the pool or braai fire, and a hike up a mountain. And South Africans also know real wine.
People who love great wine made by world class winemakers don't have to compromise on quality for the convenience of canned wine.
As the brand was created in early-2018 with the aim of creating South Africa's first certified and premium canned wine, they had there wine certified by the Wine and Spirit Board of South Africa (WSB). Which allowed them to declare cultivar, vintage and region under the Wine of Origin scheme.
The grapes used in the wines are from iconic Swartland region (Chenin Blanc), and from Stellenbosch (Merlot) and no sulphur added too.
In 2020 they launched the first canned De-Alcoholised wines in South Africa. Only the best suited wines were selected based on the profile we ultimately wanted in our exciting and guilt-free wine range. The alcohol was removed from the wines before being expertly crafted to create products that taste strangely familiar…it's Uncanny!
The de-alcoholised wine range consists of a fresh and crisp Sauvignon Blanc, and a rich and fruity Pinotage.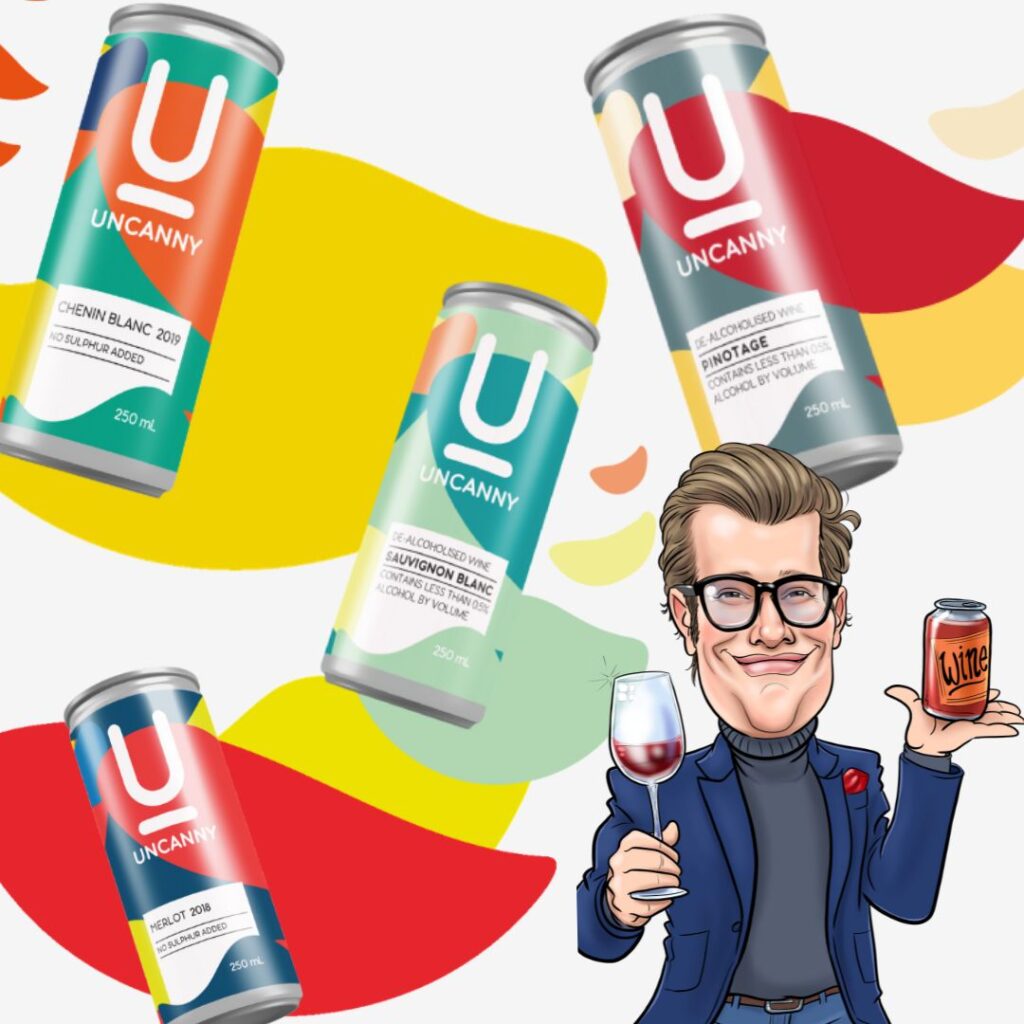 Chenin Blanc
The Uncanny No Sulphur Added Chenin Blanc 2019 carries a burst of vibrant energy as citrus and honeysuckle meet you on the nose. The rich mid-palate carries a mouth-filling creaminess that lingers with summer apricots – characteristics associated with great Chenin Blanc wines and fun-filled summer days! ⁠
Merlot
The Uncanny No Sulphur Added Merlot 2018 is a sensory feast! Mulberries and fynbos collide on the nose, with a rich fruit forward mid-palate balanced attractively with a dry finish. The aftertaste lingers with hints of dark chocolate, perfect for campfire hang-outs and romantic evenings under the stars.
de-alcoholised wine Sauvignon Blanc
The Uncanny De-Alcoholised Sauvignon Blanc is ready to be served ice cold and guilt-free! Carefully selected, premium Sauvignon Blanc was sourced, de-alcoholised and treated with the care it deserves to produce a fresh and crisp de-alcoholised Sauvignon Blanc.
de-alcoholised wine Pinotage
The Uncanny de-Alcoholised Pinotage is proudly South African and ready to be enjoyed guilt-free. Fruit-forward, oaked Pinotage was sourced, de-alcoholised and expertly crafted to produce a fruity and rich de-alcoholised Pinotage with subtle tannin
The Chateau Del Rei Sweet rosé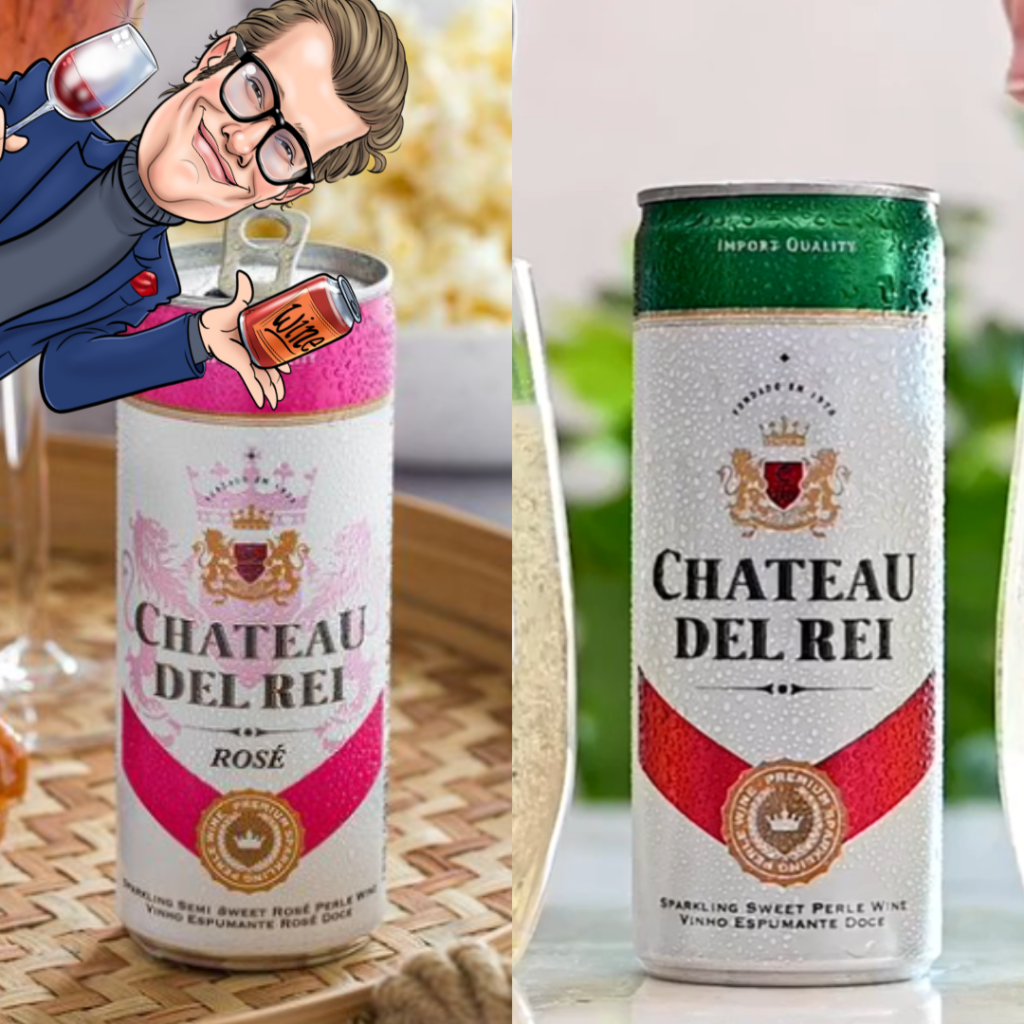 This low in alcohol sparkling rose is made from Muscat, Chenin Blanc and Ruby Cabernet grapes, with bursting aromas of red berries. The red fruit aromas from the Ruby Cabernet is fully supported by the lingering citrus, orange blossom and creamy textured Chenin Blanc and Muscat aromas. Alleviated by the zesty bubbles, this bright salmon coloured Rosé.
The Chateau Del Rei Sweet white
Made from Chenin Blanc and Muscat grapes, with aromas of peach, mango and litchi, backed by musky undertones. Good balance between sugar and acidity, with a refreshing finish.